KorEANnet
In the wake of a rapid expansion of the internet and communication networks, e-commerce is becoming an indispensable condition for efficient supply chain management. GS1 Korea is helping companies build their infrastructure of electronic commerce by operating the 'KorEANnet'(www.koreannet.or.kr) service.

KorEANnet is a Web-based catalogue service for business-to-business transactions among retailers and manufacturers. Previously, manufacturers sent information about products and companies to retailers via fax or e-mails. However, KorEANnet allows them to input such information into the system and lets all retailers share the data.
Overview of KorEANnet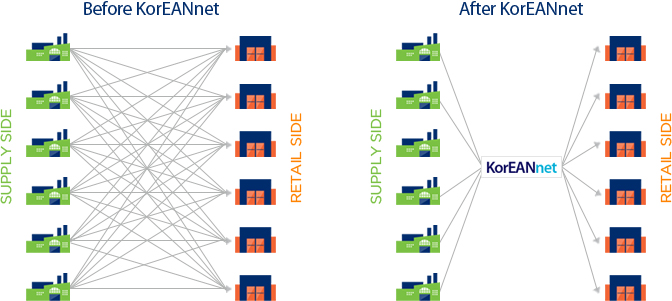 KorEANnet was poised as the nation's representative e-catalogue service with major retailers such as E-Mart, Nonghyup, Lotte Mart and Mega Mart participating in the service. Since its launch in 2001, the number of products registered with the service stood at about 2.2 million items from some 30,000 companies as of April 2016.

KorEANnet provides benefits to retailers for swift acquisition of information on new products, opportunity to source new products by buyers, and availability for POG(Plan-O-Gram) with product specification and image information. The KorEANnet also ensures manufacturers to save time with just a single entry of common data and promote new products and achieve systematic barcode management.