Unsafe Product Screening System
Unsafe Product Screening System
As the concern over consumer product safety is increasing, both governments and industries worldwide have focused on enhancing efforts to protect consumers. In Korea our efforts to ensure consumer safety have been embodied by the launch of the "Unsafe Products Screening System(UPSS)" in 2009. UPSS was initiated by the Ministry of Knowledge Economy and GS1 Korea in collaboration with three relevant government bodies - Korea Food & Drug Administration, Ministry of Environment, and Korean Agency for Technology & Standards.

"Unsafe Product Screening System(UPSS)" is designed to enhance consumer safety by using the GS1 system of standards to effectively and efficiently share information about unsafe products. Under the UPSS, the government bodies communicate information about unsafe products to KorEANnet(the GS1-compliant e-Catalog run by GS1 Korea) as soon as they identify a product safety issue. KorEANnet in turn sends the information to retailers on a real time basis and retailers then block the sale of those products to consumers at their point-of-sale(POS) terminals. Throughout the information sharing process, the GS1 GTIN(Global Trade Item Number) is used as the product identifier.
Overview of Unsafe Product Screening System(UPSS)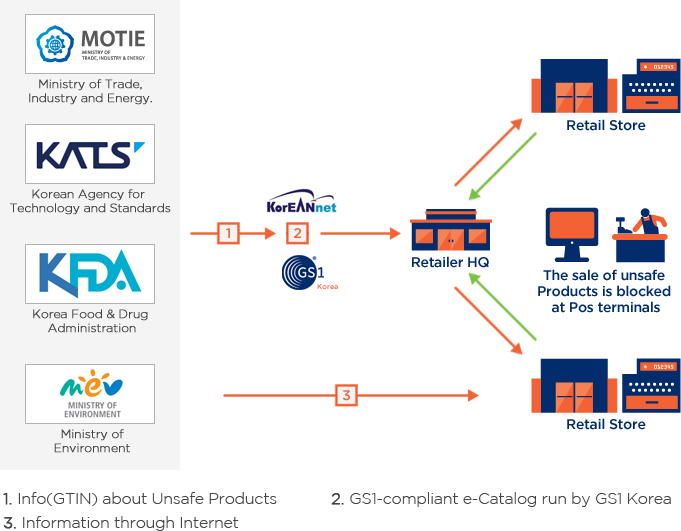 Major retailers stepped up their efforts to adopt UPSS, which led to a significant increase in the number of applied stores of more than 34,700 in June 2012. Furthermore, the adoption of UPSS has been propelled not only at off-line retail stores but also in online merchandising. The adoption of UPSS by internet-based merchandising makes on-line shopping more trusted and safe.

With the UPSS system, the sale of unsafe products is automatically blocked, which in effect provides consumers with a sense of relief and confidence. Eventually, the system reduces recalls, thus reducing cost for management and enhancing brand images for the companies involved.